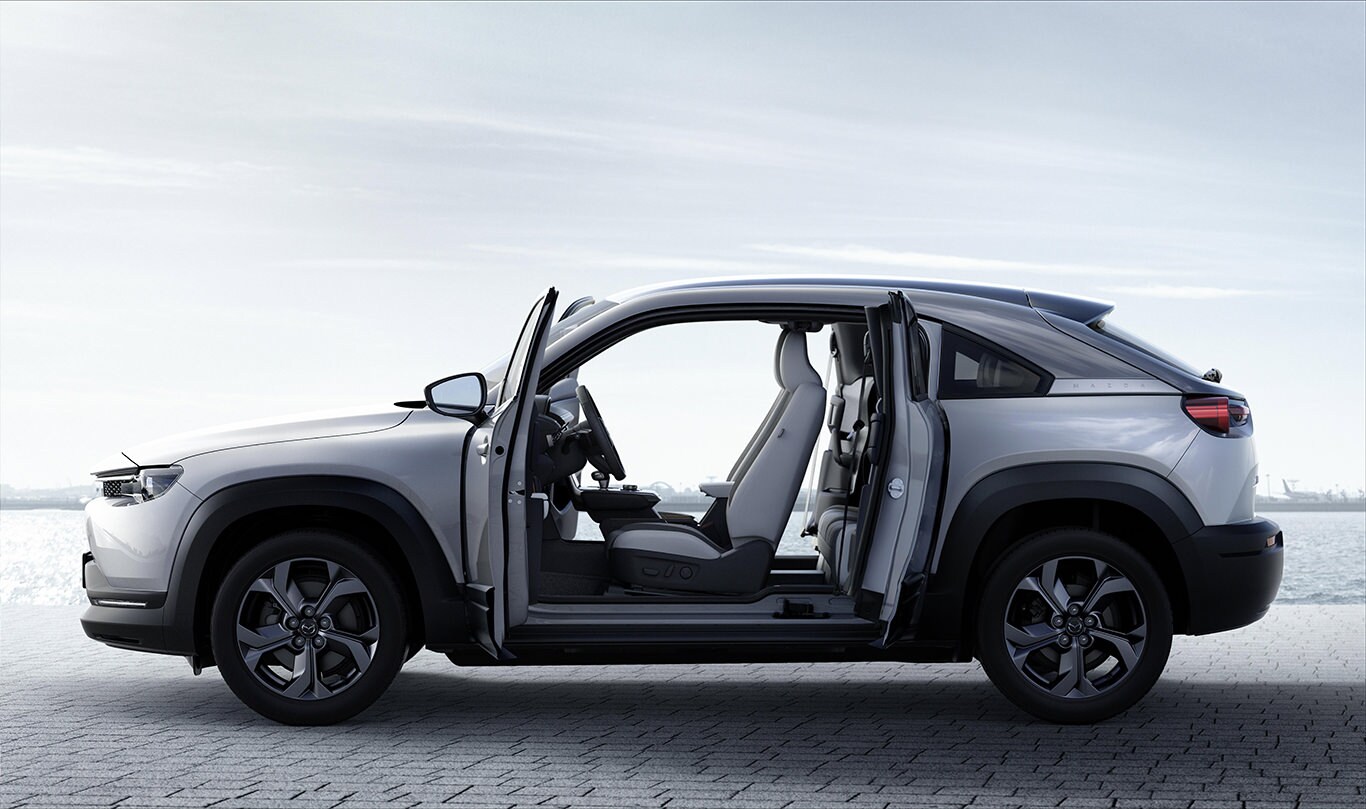 Mazda automakers are some of the most inventive car manufacturers in the world. Over the years, we here at Hall Mazda Virginia Beach have loved providing drivers in the Virginia Beach, VA area with some of the most luxurious and innovative vehicles available.
That's why we're excited to announce the upcoming 2021 Mazda MX-30, the automaker's first fully electronic vehicle. Like everything Mazda automakers do, they've designed their new electric crossover with a purpose in mind. The goal of the Mazda MX-30 is to create an environmentally-friendly vehicle that serves as a partner to you.
The first thing you'll notice about the exceptionally well-designed crossover is how attractive it is. Most notable is the design for the side doors. Instead of opening from the front, both doors on each side of the car open from the back. These "freestyle" doors allow for an inviting opening when entering and exiting the vehicle.
As much as we love the design, this is a Mazda model. That means that there's much more to this vehicle than its looks. The new Mazda EV crossover offers 141 horsepower and 195 lb-ft of torque with a 35.5kWh battery.
To further enhance the abilities of the new Mazda MX-30, the automaker took inspiration from the architecture used on the new 2019 Mazda3. Additionally, this new crossover employs an improved version of the Mazda G-Vectoring control system.
According to Autocar, when talking about the upcoming 2021 Mazda MX-30, European boss Yasuhiro Aoyama said, "As with all our products, our designers and engineers had a very clear goal for our first battery-electric vehicle. It had to have stand out design, be great to drive, something we believe many manufacturers have forgotten in their rush to launch EV products, and most importantly, make a positive contribution to reducing emission across the entire life cycle of the product".
The brand-new Mazda MX-30 debuts at the 2019 Tokyo Auto Show and is slated for launch later in 2020.